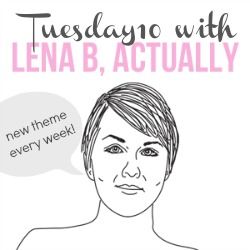 This week's prompt for Tuesday 10 with
Lena B, Actually
is your Christmas wishlist. I am horrible at coming up with gift suggestions for myself, so I might have to fill in with a few of the kids' wishes.
Kitchen-Aid mixer
I've been told Bosch machines are better than Kitchen-Aids, so I'll just wish for both!
This tiny cookie scoop. See, I told you I run out of ideas fast.
Pampered Chef can opener
Guess it's time to resort to the kids now:
For The Artist, River Song's TARDIS journal
For The Author, a laptop
For Mr. Adventure, Nerf Double Sword
For Little Miss Sunshine, a Husker Pillow Pet
For Princess, a purple Sock Monkey (to join last year's pink Sock Monkey)
Finally, for Bugaboo, anything Angry Birds
Hopefully Santa reads my blog. ;)