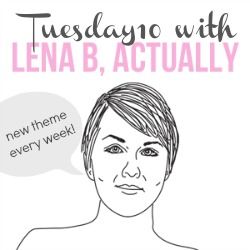 I love Christmas music. I love tuning into the radio each morning on my drive home from dropping The Artist at school and getting in the spirit of the season. So, this week's Tuesday 10 prompt from
Lena
is right up my alley. Here, in no particular order, are 10 of my favorite Christmas songs:
White Christmas
- the best version is sung by Bing Crosby
O Holy Night
- my first piano teacher gave me a simplified version as a gift, I've loved it ever since
All I Want for Christmas is My Two Front Teeth
- this is Princess's theme song this year
Thistlehair the Christmas Bear
- by
Alabama
, I have many memories of singing this with my siblings when we would go caroling to our neighbors. My aunt provided accompaniment on her guitar and/or harmonica.
Silver Bells
- no particular reason, I just like it
Angels We Have Heard on High
- I love singing the soprano line in the chorus.
Rudolph the Red-Nosed Reindeer
- again, no particular reason, just a favorite
The Canon Carol
- I can't seem to find a professional version. I've heard it done by church choirs and love it. Then again, it could be because I love Pachelbel's
Canon in D
.
The Twelve Days of Christmas
- for a few years, we had a big extended family sing-along. We would divide up into groups with each group singing a stanza of the song. One year the first stanza turned into "a cartridge in a bear tree" mid-song. We then did a version with each group changing their stanza to something silly. It was great fun.
Christmas Pipes
- by
Celtic Woman
What are your favorite Christmas songs?