Tuesday 10 has been taken over by Mindy from
My Life As Mindy
.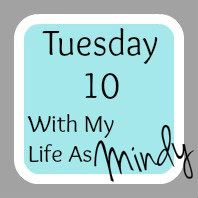 This week doesn't have a topic, so I thought I'd throw a little randomness in. Have you ever visited
Cool Math Games
? I found this through my kids. It's one they use for free time at school. You should try some of my favorite games:
Bouncing Balls
- a strategy game to clear the board before time runs out
40x Escape
- A locked door, and you have to figure out the puzzle to open it.
Fallen From the Moon
- Guide the cute little guy back to his home on the moon.
Gems Swap II
- another strategy game, match groups of three or more gems to cover all the spaces on the board
Mini Scientist
- Help the scientist find the engine so he can take off in his rocket.
Factory Balls
- Dye and manipulate the balls to match the order in the box. All four versions are fun.
Sugar, Sugar
- fill the cups with sugar grains
Mancala
- a classic, this version is hard to beat the computer
Ninja Painter
- Roll the paint on the marked walls, collect the stars to open the exit door.
Bloons Tower Defense III
- Pop the balloons before they reach the end of the track.
What game is your favorite?